Wildfire Update
Whitecourt Area Update
2019 Wildfire Season is Here - Whitecourt Forest Area Wildfire Update - March 1, 2019
By Shannon Stambaugh, Mar 1, 2019 11:18:02 AM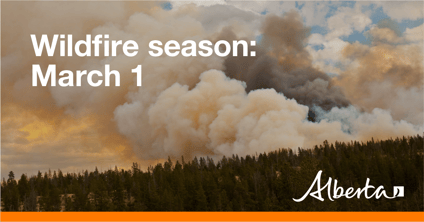 FIRE PERMITS ARE NOW REQUIRED
As of March 1, all winter burn sites must be completely extinguished. A free fire permit is now required for any burning (except campfires) in the Forest Protection Area of Alberta.
To get your free fire permit in the Whitecourt Forest Area, call 780-778-7166.
Read more about the official start of the wildfire season here.
---
WILDFIRE SITUATION (1000hrs)
Whitecourt Forest Area
There are 0 wildfires in the Whitecourt Forest Area.
As March 1, 2019, there have been 0 wildfires; with a total area burnt of 0 hectares.
Forest Protection Area of Alberta
There are 4 wildfires in the Forest Protection Area of Alberta. 2 of these wildfires started during the 2018 wildfire season and the other 2 started after the end of the 2018 wildfire season. All 4 of these wildfires are under control and continue to be monitored.

Find information on wildfires across the

Forest Protection Area

of Alberta on the Alberta Wildfire status map.
---

PREVENTION OF SPRING WILDFIRES STARTS RIGHT NOW
Don't let your winter burn become a spring wildfire. If you your winter burn site is not extinguished, report it immediately by calling 780-778-7272 or 310-FIRE(3473).
To make sure your winter burn site is out:
Start by spreading out the remaining material within the pile, using heavy equipment if necessary. You are looking for hotspots, or areas of burning material. Remember to dig down into the soil to make sure the fire has not burnt downwards; it can be useful to use a metal probe.

Once you find a hotspot, soak it, stir it and then soak it again. Repeat the process until it is cool to the touch.

Repeat the spreading and digging one last time. Walk the ash pit looking for hotspots and extinguish as needed.
A properly extinguished burn site requires work and time which means multiple visits.
---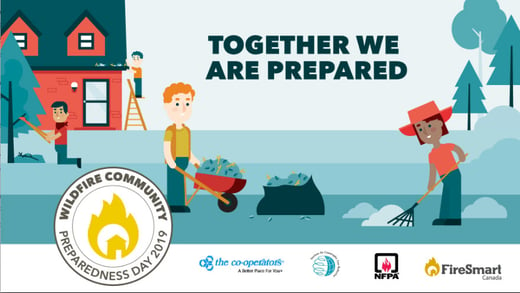 GRANTS ARE AVAILABLE TO HELP FIRESMART YOUR PROPERTY!
Would you like to host a neighborhood clean-up day where you work with your neighbors to remove trees and bushes that create a wildfire hazard? Now is your chance to get a grant for this type of FireSmart fun! If you need more ideas, talk to your local fire department or search the hashtag #IAmFireSmart.
Applications are now being accepted for the Wildfire Community Preparedness Day.
Grants can be up to $500, learn more.

Your application deadline is March 9, 2019.
Find FireSmart Canada on Facebook and Twitter.
Unless conditions change, your next wildfire update will be on March 15, 2019.
Shannon Stambaugh
Wildfire Information Officer
Phone: 780.706.5336
Email: This email address is being protected from spambots. You need JavaScript enabled to view it.

RELATED INFORMATION
Websites:
Apps: